FSN Capital VI* has signed an agreement to acquire a majority stake in Lobster, a leading no-code data integration software provider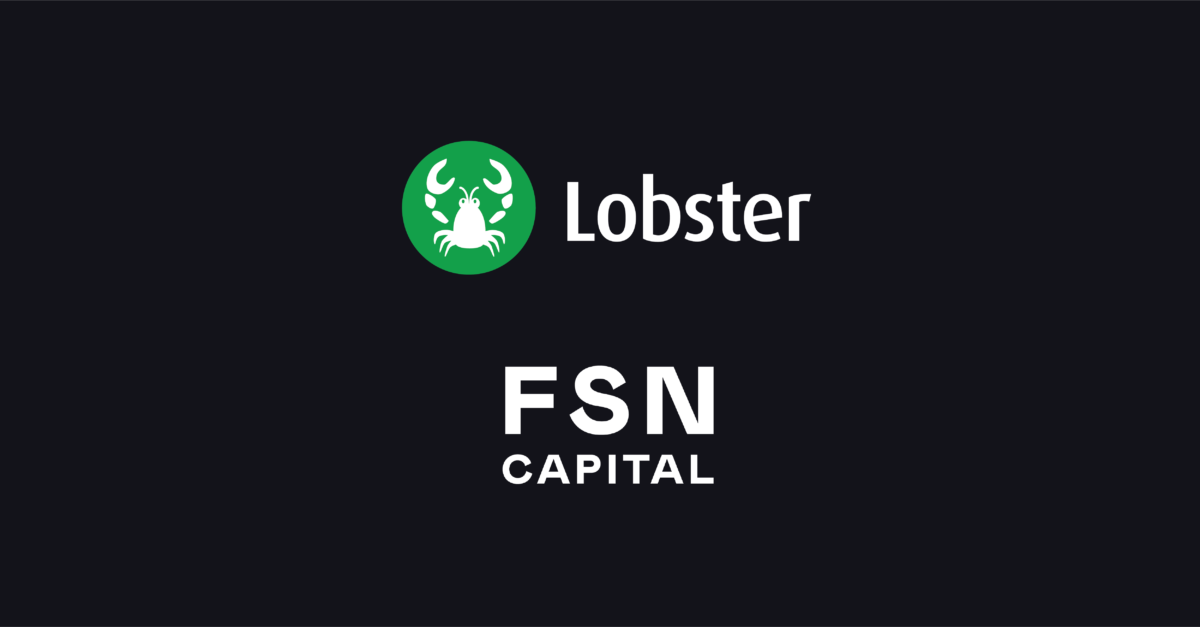 Munich, January 5th, 2023
FSN Capital VI* has signed an agreement to acquire a majority stake in Lobster, a leading no-code data integration and digital process automation platform provider. The investment in Lobster is following FSN Capital VI's strategy to support high-growth entrepreneurial businesses in their next stage of development.  
Lobster offers a no-code data integration and digital process automation software suite, enabling business teams to master data management and process automation. In an increasingly complex and dispersed landscape of digital enterprise solutions, Lobster's software suite allows organizations to connect seamlessly and securely with internal and external mission-critical IT systems. 
Lobster offers three cloud-based tools for mid-to-large-sized companies, supporting data and application integration (Lobster_data), digital process automation (Lobster_pro), and product information management (Lobster_pim). In addition, Lobster's fast-growing logistics.cloud enables shippers and logistics service providers to digitalize complex supply chains, with a flexible, vendor-neutral, and cloud-first logistics platform.  
Lobster's products do not require any coding or knowledge of a programming language. Designed for "citizen developers", Lobster's tools enable digital transformation for businesses that are connecting and integrating applications (API/EAI), "big data" (ETL/ELT), external systems (EDI) or next-gen technologies (IoT/Industry 4.0) across on-premise, hybrid and multi-cloud environments. 
Headquartered in Tutzing, Germany, Lobster employs more than 250 employees, serving more than 1,500 customers across a broad range of industries, including logistics, commerce, and manufacturing. Lobster was founded in 2002 and has delivered profitable revenue growth of more than 20% per year over the last 10 years. With local presences in DACH, United Kingdom, France, Benelux, and Scandinavia, the company demonstrates industry-leading Net Promoter Score (NPS) and customer retention rates.
Robin Mürer, Co-Managing Partner at FSN Capital Partners (investment advisor to FSN Capital VI), commented: "In a world of exponentially growing amounts of data, complexity of data flows and application stacks, Lobster offers easy to use, economic and powerful software solutions to integrate data, applications, and processes of all forms and variations. We are highly impressed by what the Lobster founders and management team have built over the past 20 years and see enormous potential for Lobster's product on a global scale. We are excited to support Lobster with our proven operational playbooks to deliver this potential in the coming years."
Martin Fischer, CEO and Co-Founder of Lobster said: "We are excited to partner with FSN to continue to grow and internationalize our business. FSN shares our values and has significant experience in professionalizing software companies, and we look forward to bringing Lobster to the next level." 
The parties have agreed not to disclose details of the transaction. The transaction is subject to approval from applicable authorities. Closing is expected in the first quarter of 2023.  
FSN Capital VI was advised by Alantra, Bain & Company, GLNS, PwC, Frank Partners, and Marsh. 
*FSN Capital GP VI Limited, acting for itself and in its capacity as general partner or portfolio manager (as applicable) for and on behalf of each of FSN Capital VI L.P., FSN Capital VI Invest L.P. and FSN Capital VI Lux SCSp. 
About Lobster 
Lobster offers a leading no-code data integration and digital process automation platform supporting more than 1,500 customers globally in transforming dispersed data sources into knowledgeable insights while eliminating the need to write code and the dependency on programmers. The company's platform allows a single, intuitive interface to access various internal and external data sources across on-premise, hybrid and multi-cloud environments. 
For more information, please visit https://www.lobster-world.com/ 
About FSN Capital  
Established in 1999, FSN Capital Partners is a leading Northern European private equity firm and investment advisor to the FSN Capital Funds, with €4 billion under management. 
FSN Capital Funds make control investments in growth-oriented Northern European companies, to support further growth and to transform companies into more sustainable, competitive, international, and profitable entities. 
Our ethos, "We are decent people making a decent return in a decent way" defines our core values. FSN Capital Partners has a team of more than 80 professionals across Oslo, Stockholm, Copenhagen and Munich. The FSN Capital Funds are advised by FSN Capital Partners in addition to 10 executive advisors with extensive industry experience. The FSN Capital Funds are committed to being responsible investors and having a positive environmental and social impact across its portfolio. 
Learn more about FSN Capital on our website: www.fsncapital.com
---
For more information, please contact the following persons at FSN Capital Partners (investment advisor to the FSN Capital Funds):
Robin Mürer, Co-Managing Partner
rm@fsncapital.com
Morten Welo, Partner & COO/IR
mw@fsncapital.com