FSN Capital has signed an agreement to acquire a majority stake in Solcellespesialisten, Norway's largest supplier and installer of solar energy systems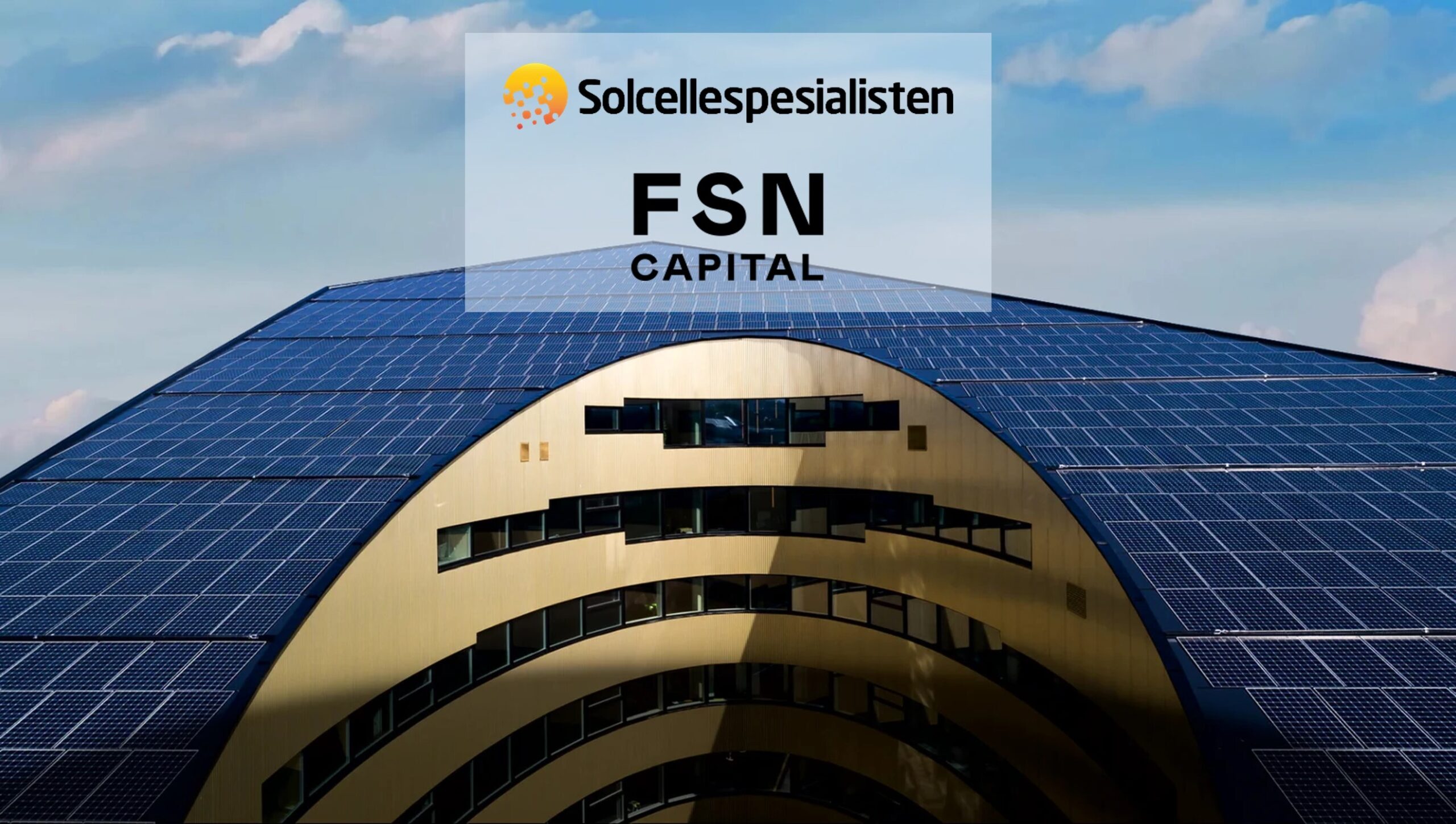 Fredrikstad, June 13, 2023
FSN Capital has signed an agreement to acquire a majority stake in Solcellespesialisten, the Norwegian market-leading solar EPC company, to further accelerate the growth of solar energy in Norway. Existing shareholders will remain significant minority shareholders.  The transaction is pending approval from relevant authorities.
Solar energy continues to be one of the most effective, scalable and important sources of renewable energy to reaching net-zero by 2050. The penetration rate of solar energy in Norway is lagging significantly behind neighbouring countries in Northern Europe. This is now changing due to tightening energy supply-demand balance in Norway, and more need for distributed energy resources and storage to reduce the strain on the power grid, leading to decarbonization of commercial operations and private homes. Solcellespesialisten is the leading supplier and installer of solar energy systems in Norway. Since its foundation in 2005, the company has delivered more than 4,000 solar systems, providing turnkey solutions within commercial, residential and utility segments. Solcellespesialisten AS provides a full value chain link from sourcing to installation and aftermarket support, and is a trusted partner to large real-estate owners, construction companies and private consumers. 
Erik Nelson, Partner at FSN Capital Partners (investment advisor to the FSN Capital Funds), commented: "Starting out as the first mover and having played a key role in the development of solar energy in Norway, Solcellespesialisten's experience, customer-centric approach, high technical capabilities and its dedicated and purpose-driven team makes the company uniquely positioned to drive the required transition to renewable energy in Norway.  The green transition is a core theme for the FSN Capital Funds, and we are proud to support companies that facilitate the decarbonization of our energy systems."  
Carl Christian Strømberg, CEO & Founder of Solcellespesialisten said: "Solar energy continues to be one of the most effective, scalable and important sources of renewable energy needed to achieve global targets of reaching net-zero. By 2050, solar is expected to be the 2nd largest energy source in Europe and the largest globally, representing 38% of electricity generated. With our new partnership with FSN Capital, we will remain a front-runner in the fast-growing and evolving Norwegian solar energy market." 
"We are proud that FSN Capital has made a significant investment in Solcellespesialisten. This is a recognition of the effort that our skilled employees have made in recent years to build the leading solar player in Norway. Partnering up with one of the leading Northern European private equity funds will provide valuable expertise and support, accelerating further growth for the Company.", said Arno Berg, Chairman of Solcellespesialisten 
The parties have agreed not to disclose details of the transaction. The transaction is subject to approval from applicable authorities. Closing is expected in the third quarter of 2023.
FSN Capital was advised by Cardo Partners, Schjødt, PWC, Frank Partners and Marsh. 
About FSN Capital Partners
Established in 1999, FSN Capital Partners is a leading Northern European private equity firm and investment advisor to the FSN Capital Funds, with €4 billion under management. FSN Capital Funds make investments in growth-oriented Northern European companies to support further growth and to transform companies into more sustainable, competitive, international, and profitable entities. Our ethos, "We are decent people making a decent return in a decent way," defines our core values. FSN Capital Partners has a team of more than 80 professionals across Oslo, Stockholm, Copenhagen, and Munich. The FSN Capital funds are advised by FSN Capital Partners in addition to 14 executive advisors with extensive experience. The FSN Capital Funds are committed to being responsible investors and having a positive environmental and social impact across its portfolio. 
---
For more information, please contact the following persons at FSN Capital Partners (investment advisor to the FSN Capital Funds):
Erik Nelson, Partner
en@fsncapital.com 
Morten Welo, Partner & COO/IRR
mw@fsncapital.com