Internal Initiatives
We believe that culture is the most important ingredient in driving the ESG agenda. The FSN Capital culture is built on our ethos and values and is realized through our behavior and priorities.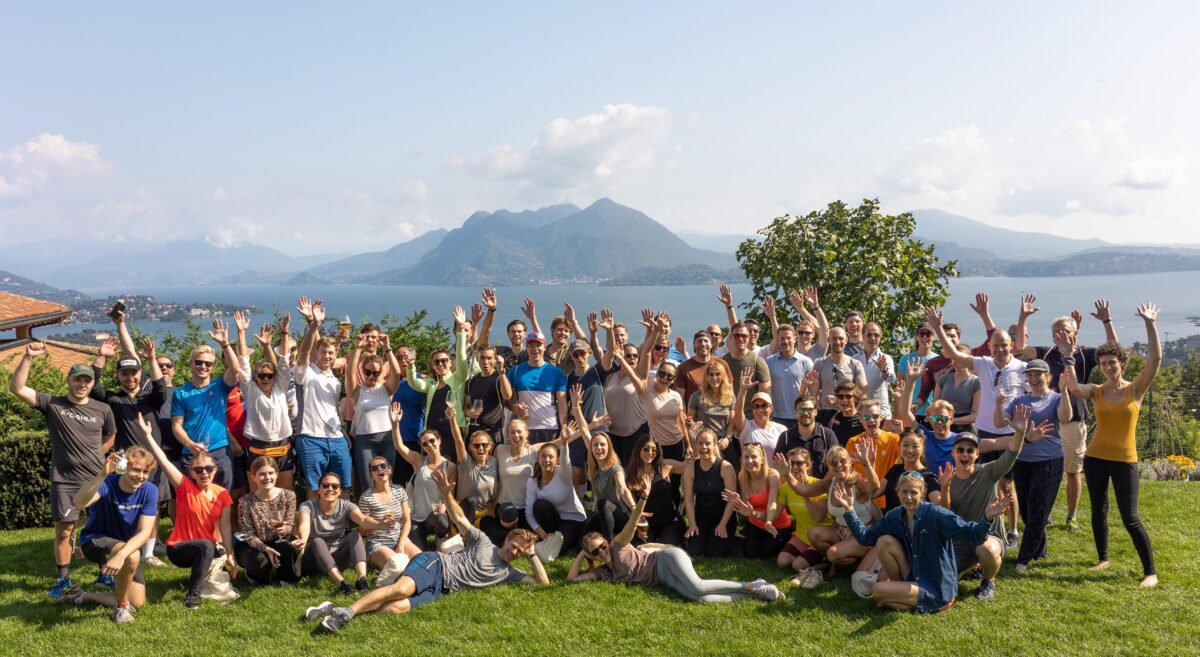 In an increasingly complex world, having teams with complementary skill sets and backgrounds are vital for success. It is well proven that diversity within a team is a key driver of long-term performance. Yet, the Private Equity industry still has a long way to go; we all need to take action.
We are committed to contributing towards UN's SDG 5, "Gender Equality", and have since 2017 had internal KPIs to measure our performance in terms of diversity.
In 2019 FSN Capital rolled out unconscious bias training for all employees and clarified the parental leave rights and obligations for our employees. We also put in place a specific mentoring program for all women investment professionals where they, in addition to internal mentors, are paired with external senior executives that provide an outside-in perspective.
To make ourselves even more accountable, we launched two new important initiatives in 2020 to steer us: gender diversity on portfolio companies' boards being one of three KPIs under the ESG-linked subscription facility, and our internal Diversity & Inclusion group as part of our Team First initiative. With these new initiatives, we have defined new long- and short-term targets and identified which actions to prioritize to reach our goals. We will transparently report on our progress in our annual ESG report.
Equality Check (unconscious bias)
MAK (intercultural competence)
Level20 (gender diversity in the PE industry)
RFKennedy Compass (human rights, and racial and ethnic diversity)
CEO Commitment
Read this interview with our Executive Advisor Gunn Wærsted
FSN Capital's climate footprint and offsetting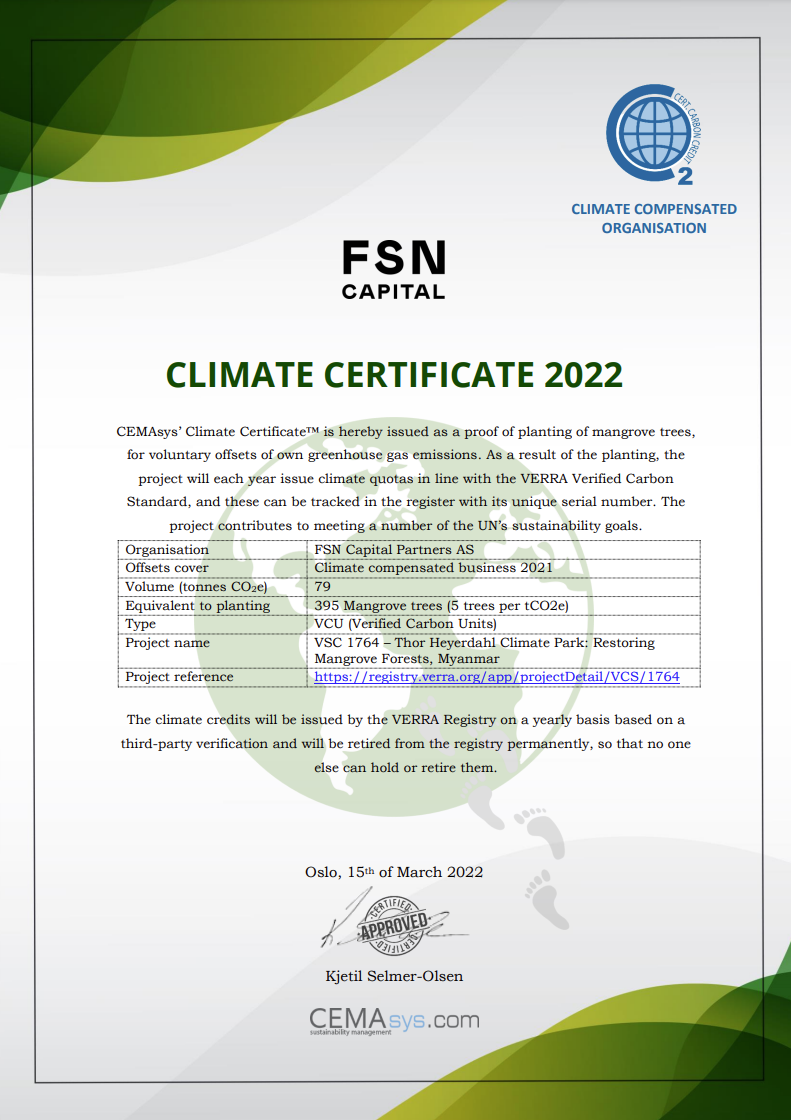 In line with the United Nations Sustainable Development Goal 13 "Climate action" and the Paris agreement, FSN Capital is committed to reducing its own Green House Gas (GHG) emissions.
With FSN Capital's commitment to reach Net Zero, we complement our reduction efforts with offsetting any remaining emissions. As with our 2019 and 2020 GHG emissions, we elected to buy carbon credits to support the Thor Heyerdahl Climate Park in 2021 – a project aiming to plant mangrove trees in Myanmar. The project aims to plant 300 million trees by 2023, which will seek to biologically capture and store over 150 million tons of CO2e. Mangrove trees capture up to five times more CO2 compared to other trees in the rainforest and thus contribute to climate change mitigation.
FSN Capital donates to select philanthropic initiatives that support our values. Since 2014, we have donated a Christmas gift to the Naandi Foundation. The charity supports the education and empowerment of underprivileged girls in India. As of 2021, our donations have contributed to 31 girls completing their 10 years education. Currently, we support the education of 176 girls in school.
We are proud to support the Naandi foundation. It gives FSN Capital an opportunity to impact an issue otherwise beyond our reach"
— Frode Strand-Nielsen,
Managing Partner, FSN Capital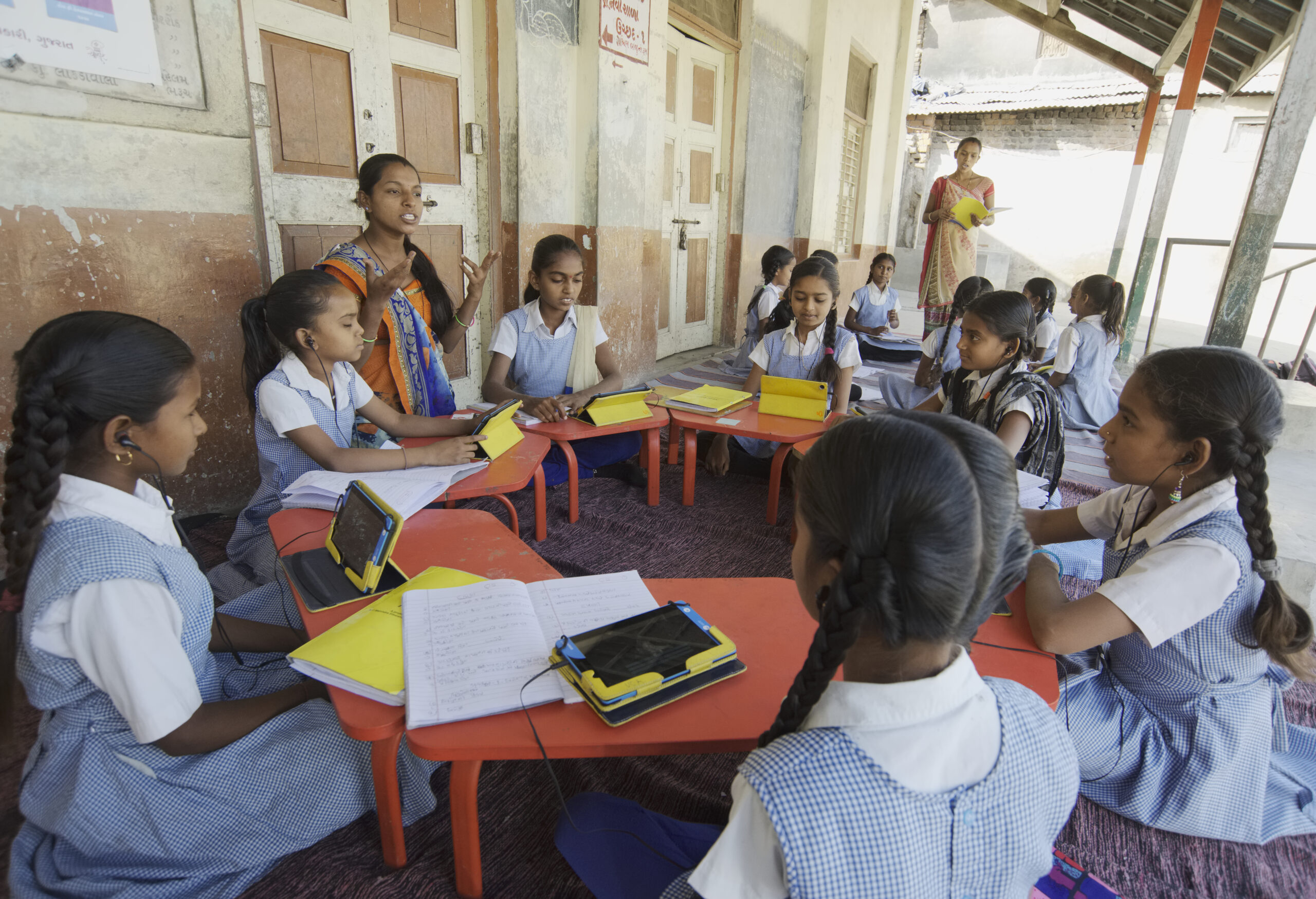 Source: The Naandi Foundation
FSN Capital also sponsors and co-operates with other initiatives including:
UNICEF, specific donation to support families in Ukraine fleeing the Russian invasion in 2022.
FromU2them, committed to providing relief for citizens of India, affected by the Covid-19 crisis.
Kennedy Human Rights, promoting investment approaches that consider social justice.
Plan, driving change to advance children's rights and equality for girls.
Level 20, dedicated to improving gender diversity in the European Private Equity industry
Morten Welo, Diversity Drives Return