FSN Capital sets science-based targets, under new private equity sector guidance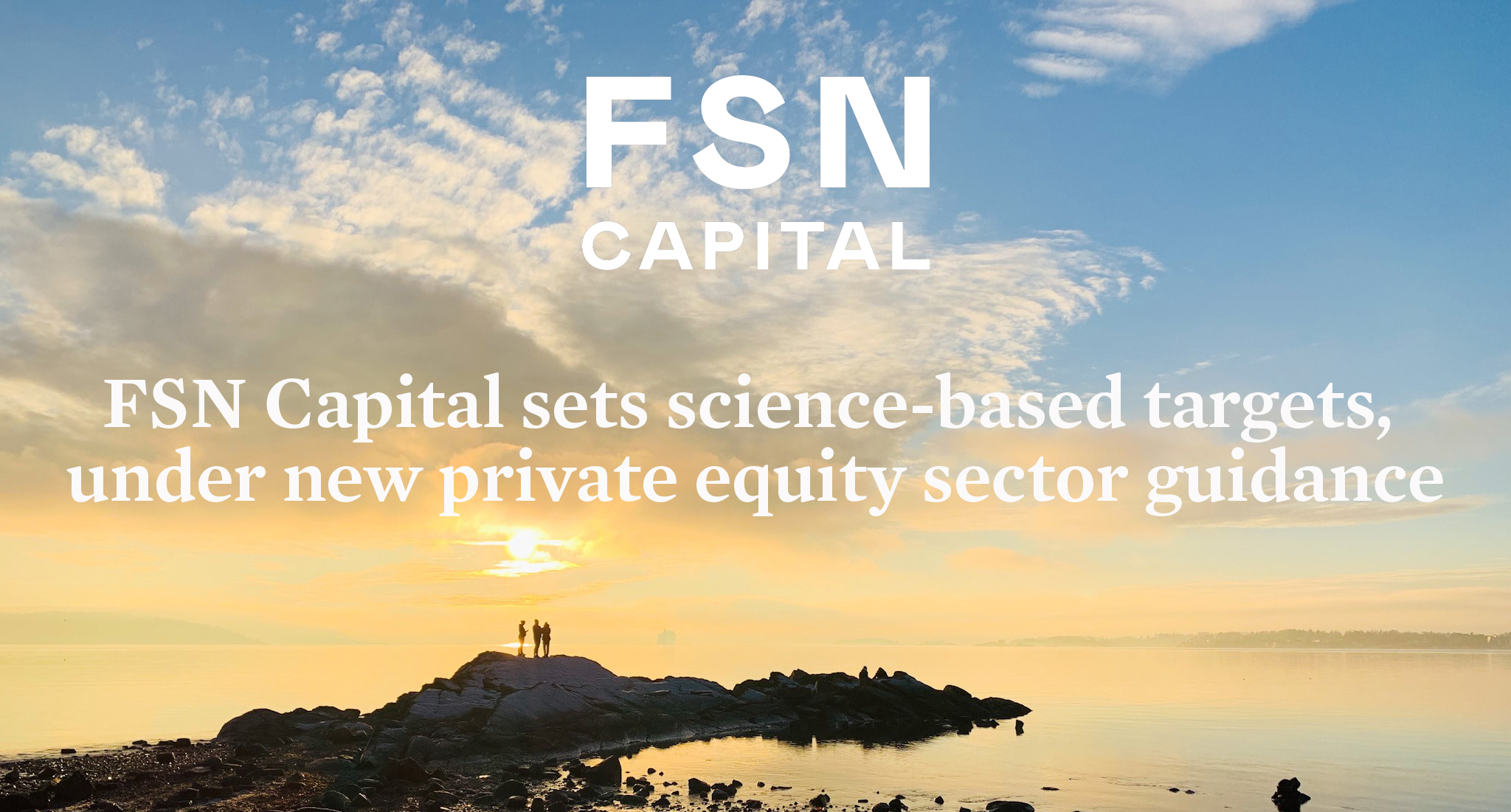 On the path to net zero, FSN Capital sets ambitious targets, including a commitment to setting science-based targets across 100% of investments by 2030
FSN Capital's targets are now approved by the Science-Based Targets initiative, in line with new guidance tailored for private equity and developed with industry collaboration
Science-based targets strengthen FSN Capital's longstanding commitments to ESG
FSN Capital is proud to announce the approval of its science-based emissions reduction targets, developed under the new private equity sector guidance launched today by the Science-Based Targets initiative (SBTi). These targets are in line with FSN Capital's commitments to working toward net zero emissions by 2050 or sooner, announced earlier this month.
The new guidance from the SBTi was developed in consultation with sector experts, NGOs, and private equity firms, including FSN Capital, Astorg, Bregal Investments, Hg, Intermediate Capital Group (ICG), and Investindustrial, all members of the Initiative Climat International who supported and tested the SBTi's guidance to set their own science-based targets.
This industry-tailored guidance will support private equity firms in setting targets to reduce greenhouse gas emissions, aligned with the goals of the Paris Agreement.
FSN Capital's targets are aligned with these goals and have now been approved and validated by the SBTi. FSN Capital commits to:
Ensure that all portfolio companies (100% of invested capital) have set their own approved science-based targets by 2030, a decade before the timeframe required by SBTi – with an interim target of approved science-based targets covering 60% of invested capital by 2026
Reduce direct emissions (scope 1 and 2) by 60% by 2026, from a 2019 baseline
Reduce indirect emissions from business travel and waste (scope 3) by 29% by 2026, from a 2019 baseline
FSN Capital will work with management teams to set science-based targets in each portfolio company and will report progress in our annual ESG report. The firm's first ESG report was published in 2014, covering activities for the year 2013. Since 2019, the report has included measurements of GHG emissions for the firm and portfolio companies, with the support of consultancy and sustainability platform CEMAsys.
Since inception in 1999, FSN Capital has embedded ESG and climate considerations into our culture, investment processes, and how we work with portfolio companies. Our dedicated ESG professionals support our investment advisory team and management teams to integrate ESG into the strategy and operations of each portfolio company. This includes developing a tailormade ESG strategy, including a climate review, tied to each company's overall strategy process.
Erik Nelson, Partner at FSN Capital, commented: "As responsible owners, we have an opportunity and obligation to drive change and impact, especially when faced with a challenge like climate change. Integrating ESG into our investment approach means working with management teams to build resilient companies that thrive long after our ownership. Working together to set science-based targets across the portfolio is a natural and tremendously important next step."
Rebecca Svensøy, General Counsel at FSN Capital, commented: "We are grateful for the collaboration with our peers in the iCI and the opportunity to work with the Science-Based Targets initiative and Anthesis on this project. We encourage our peers to join the efforts taking place in organizations like iCI, to drive climate action in the private sector."
Frode Strand-Nielsen, Managing Partner and Founder of FSN Capital, commented: "FSN Capital is proud to contribute to the development of the Science-Based Target initiative's new guidance for the private equity industry, together with a community of investors and organizations working toward a more sustainable future. This new guidance will enable even more private equity firms to commit to and implement ambitious targets to address climate change, for the benefit of both our investors and society at large."

About FSN Capital
FSN Capital Partners is an investment advisory firm acting exclusively on behalf of the FSN Capital funds with more than €3.1 billion under management. Established in 1999, FSN Capital has a team of 63 across Oslo, Stockholm, Copenhagen, and Munich, in addition to 9 Executive Advisors with extensive industry experience. FSN Capital seeks to act with the highest level of integrity, taking a responsible approach when interacting with our portfolio companies, our advisors, our investors, local communities, and the environment.
---
For more information, please contact:
Rebecca Svensøy, General Counsel
rcs@fsncapital.com