FSN Capital VI partners with 11 technical installation companies to form a new Danish market leader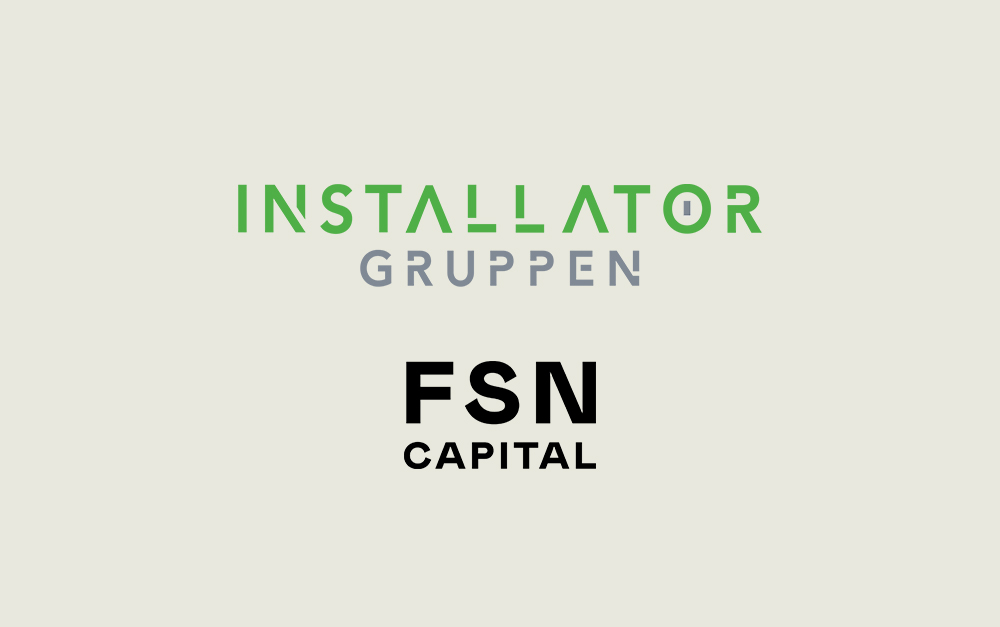 Copenhagen, February 1st, 2023
Eleven Danish technical installation companies have come together with private equity fund FSN Capital VI* to establish InstallatørGruppen. From day one, the Group will become one of Denmark's largest companies within electricity, plumbing, optical fiber, ventilation, and cooling systems, with a total turnover of around DKK 1.3 billion. InstallatørGruppen aims to become the market leader through partnerships with local installers across Denmark and to take on a leading role in promoting sustainability and energy efficiency. 
The 11 installation companies that will form InstallatørGruppen are local market leaders in their respective fields. The companies are A-Comfort, Alvent Ventilation, Byens VVS & Blik, CH VVS, El Team Fyn, GL VVS, Jesper Hansen VVS, John Jensen VVS, Kjellerup Group, MH Elektric, and WeCon. Over time, the group plans to grow with the addition of more local installers from across Denmark.  
InstallatørGruppen is based on local roots and close customer relationships. All companies retain their local management, employees, company names, and locations, while becoming partners and co-owners of InstallatørGruppen. This will enable the companies to deliver nationwide solutions and to take advantage of InstallatørGruppen's economies of scale to strengthen their local market positions. 
John Jensen VVS is one of the companies that have joined InstallatørGruppen. The company was founded in 1962 and is today owned by managing director Jesper Leen Jensen, whose father founded the company which today employs more than 250 people. 
Jesper Leen Jensen explains: "We see great benefits for our customers and employees in us becoming part of InstallatørGruppen. It strengthens our existing competencies and allows us to share knowledge with other companies. It also creates the opportunity for us to develop and expand our current product offerings. It has been crucial for us that we, as part of InstallatørGruppen, retain our local management, company name, local presence, and close customer relationships, as it creates comfort for our customers, partners and employees and is crucial for recruitment." 
The management of InstallatørGruppen consists of CEO Niels Meidahl and COO Peter Frandsen. Peter Frandsen is the former owner and CEO of Frandsen El, which he founded in 2001 and in 2020 sold to El:con, where he became sales director. A technical installer by profession, he is a member of the board of the TEKNIQ Employers Association in Copenhagen. 
Peter Frandsen states: "InstallatørGruppen combines the best of both worlds by combining the individual companies' local roots and close customer relationships with all the advantages of being part of a larger group. You get the opportunity to collaborate with other local market leaders with a wide range of technical expertise in electricity, plumbing, optical fiber, ventilation, and cooling systems. Together the companies will be able to offer market-leading solutions to companies and public customers throughout the country, without compromising their close relationships with customers, partners, and employees." 
Niels Meidahl, who will become the CEO of InstallatørGruppen, has had a long career as a CFO in companies including Nuuday, Fitness World Group, Saint-Gobain Distribution Denmark, and H+H International. Niels has extensive experience with business mergers and cooperation with international private equity funds. 
Niels Meidahl says: "It is the individual partner companies, owners and employees that are the foundation of InstallatørGruppen and will shape the Group going forward. At group level, we will focus on strategic areas and providing economies of scale which can contribute to strengthening the companies' position and competitiveness. The Group's financial strength enables us to focus on developing and expanding InstallatørGruppen. We have ambitious growth plans in Denmark and our goal is to become the market leader within the next three years." 
The FSN Capital funds have previously been successful with similar business models in the Nordics. For instance, FSN Capital IV established Instalco in 2014, a leading technical installation company in Sweden listed on Nasdaq Stockholm in 2017. FSN Capital V has since 2020 been supporting the pan-Nordic leader in surface treatments, Håndverksgruppen, which today consists of over 100 local businesses. 
Nicolai Norrbom, Partner at FSN Capital Partners (investment advisor to FSN Capital VI) comments: "InstallatørGruppen combines the best qualities of local management and customer relationships with the benefits that come from being part of a larger group. It is a business model that FSN Capital funds have had great success with in the past. Further, it is evident that the installation industry will play an important role in promoting energy efficiency in buildings, reducing greenhouse gas  emissions, and thus contributing to the achievement of Denmark's climate goals. We see great potential for InstallatørGruppen to play an important role in the green transition, which is a focus area in FSN Capital's investment strategy."  
Approval from the competition authorities is expected within 4-6 weeks. 
*FSN Capital GP VI Limited, acting for itself and in its capacity as general partner or portfolio manager (as applicable) for and on behalf of each of FSN Capital VI L.P., FSN Capital VI Invest L.P. and FSN Capital VI Lux SCSp ("FSN Capital VI").  
About InstallatørGruppen
InstallatørGruppen will initially consist of 11 companies within electricity, plumbing, optical fiber, ventilation, and cooling systems, with a total turnover of around DKK 1.3 billion. The Group's goal is to create a nationwide market leader. InstallatørGruppen is based on local roots and strong customer relationships combined with broad market knowledge and economies of scale. The Group plans to become an industry leader in ESG through proactive and systematic investments in sustainability and a healthy work environment.
InstallatørGruppen is majority owned by FSN Capital VI and the founders of the group companies.


About FSN Capital Partners
Established in 1999, FSN Capital Partners is a leading Northern European private equity firm and investment advisor to the FSN Capital Funds, with €4 billion under management. FSN Capital Funds make investments in growth-oriented Northern European companies to support further growth and to transform companies into more sustainable, competitive, international, and profitable entities. Our ethos, "We are decent people making a decent return in a decent way," defines our core values. FSN Capital Partners has a team of more than 80 professionals across Oslo, Stockholm, Copenhagen, and Munich. The FSN Capital funds are advised by FSN Capital Partners in addition to 10 executive advisors with extensive experience. The FSN Capital Funds are committed to being responsible investors and having a positive environmental and social impact across its portfolio. 
---
For more information, please contact the following persons at FSN Capital Partners (investment advisor to the FSN Capital Funds):
Nicolai Norrbom, Partner
nn@fsncapital.com  
Morten Welo, Partner & COO/IR
mw@fsncapital.com