FSN Capital VI and funds advised by Verdane agree investment of approx. €135 million in Polytech to further accelerate the global energy transition and reinforce Polytech's position as a strategic partner to wind turbine manufacturers globally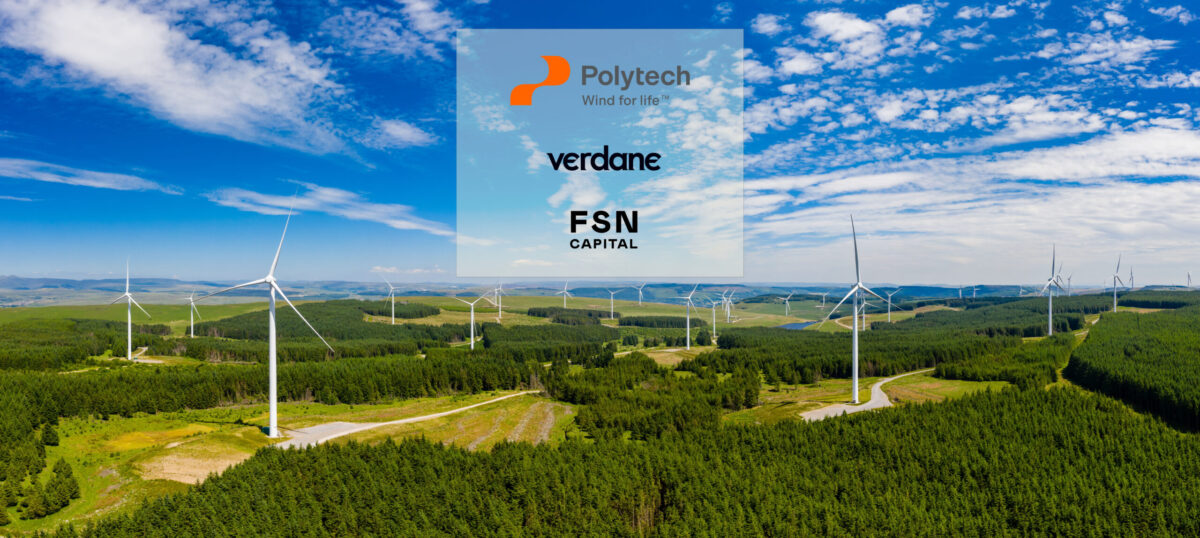 Copenhagen, January 12th, 2023
Polytech, a global market leader in rotor-blade technical solutions for wind turbines, announced today that FSN Fund VI* ("FSN Capital VI"), a leading Northern European private equity investment firm, and funds advised by Verdane, a European specialist growth equity investor, have agreed to make a strategic investment of approx. €135 million in the company to cement Polytech's global leadership position. Existing investor Verdane will remain a majority shareholder, while new investor FSN Capital VI will become a significant minority shareholder. The transaction is pending approval from relevant authorities.
Polytech develops, designs, and produces some of the most sophisticated systems for protecting and improving wind turbines anywhere in the world. Wind energy continues to be one of the most effective, scalable, and crucial sources of renewable energy needed to achieve global targets of reaching net-zero by 2050.  By 2050, wind is expected to provide almost 50% of on-grid electricity in Europe, 40% in North America and Latin America, and more than a third of electricity generation in China. Polytech is a front-runner in wind power innovation, with its global office and factory footprint – around 60% of all newly manufactured blades globally contain at least one Polytech solution, and more than 150,000 installed blades are currently equipped with Polytech's Lightning Protection System. Polytech provides wind turbine manufacturers, wind park developers and owners with innovative, state-of-the-art solutions in lightning protection, leading edge protection, sensor technology, wind turbine transportation, and subsea. The company's exceptional R&D function is widely recognized for the high quality of its solutions and its customer-centric approach to the design of new solutions that solve key industry pain-points.
Since Verdane's investment in 2016, Polytech has become a clear global market leader in its niche and the preferred partner to leading wind turbine manufacturers in the global wind industry. With the global wind energy market size value projected to reach $127.2 billion by 20271, Polytech is ideally positioned, with its distinctive offering and highly experienced management team, to capitalize on the growing global commitment to decarbonization, and to deliver exceptional growth by investing and expanding its product proposition and reach. FSN Capital VI and Verdane will leverage their expertise in supporting quickly maturing businesses to solidify Polytech's key role in the wind value chain, supporting the industry with systems that protect and improve wind turbines.
"As wind turbines are growing bigger and more complex, there is a need for more sophisticated solutions to enhance and protect these assets. Through strategic partnerships, we support our customers in ensuring that their wind turbines withstand a lifetime of more than 35 years with optimized energy production in a harsh environment. The partnership between FSN and Verdane reinforces our ambitions of being on the forefront of technology development and further international growth within the wind industry," said Mads Kirkegaard, CEO of Polytech.
Kasper Sørensen, Principal at FSN Capital Partners (investment advisor to FSN Capital VI), commented: "The green transition is one of the most promising investment themes today and continues to be a focus across the FSN Funds. As the leading global specialist in wind turbine blade protection and enhancements, Polytech is perfectly positioned to support the acceleration of the energy transition over the coming years. We are impressed by Polytech's innovation capabilities and its ability to bring new and scalable technologies to the rapidly growing wind industry. The onward journey will be exciting, and we are proud that Verdane and the Polytech team have chosen to partner with FSN Capital VI."
"Polytech offers the market a unique breadth and depth of capabilities across materials, sensors, digital solutions/IoT and circularity, combined with a relentless focus on cost and design for efficient manufacturing. Starting from a position of global niche leadership, a customer centric can-do attitude and decades of experience deploying high quality solutions in the field, the company is uniquely positioned for continued growth. Wind energy will play a key part of the increasingly urgent transition to renewable energy globally, and Polytech's solutions help bring down the cost of that energy. Verdane will continue to back the leaders in the green energy transition and are proud to continue helping build future proof businesses in the wind industry ecosystem. FSN and Verdane have successfully partnered in the past, and we are pleased to continue our collaboration," said Bjarne Kveim Lie, Co-Founder and Managing Partner at Verdane.
*FSN Capital GP VI Limited, acting for itself and in its capacity as general partner or portfolio manager (as applicable) for and on behalf of each of FSN Capital VI L.P., FSN Capital VI Invest L.P. and FSN Capital VI Lux SCSp ("FSN Capital VI").
About Polytech
Polytech brings sustainable solutions to life that improve the durability and performance of wind turbines. Polytech's solutions protect turbine blades from lightning and erosion, they monitor and optimize turbine performance, and protect and monitor turbine equipment during transport, storage, and in the subsea environments.
Founded in 1994, Polytech is now a front-runner in wind power innovation and a trusted partner to major players in the wind industry, with locations in Denmark, China, Germany, and Mexico. Ultimately, the ambition is to help the world become powered primarily by renewables.
Sustainability is at the core of Polytech's operations to reduce the levelized cost of wind energy. These efforts also drive rigorous testing of products and pioneering the use of IIoT. Because together, through innovation rooted in sustainability, we can change the way we power our planet.
Wind for life.

Read more on: www.polytech.com/
About Verdane
Verdane is a specialist growth equity investment firm that partners with tech-enabled and sustainable European businesses to help them reach the next stage of international growth. Verdane can invest as a minority or majority investor, either in single companies or through portfolios of companies. Verdane funds hold over €4.5 billion in total commitments and have made over 140 investments in fast-growing businesses since 2003. Verdane's team of over 130 investment professionals and operating experts, based out of Berlin, Copenhagen, Helsinki, London, Oslo and Stockholm, is dedicated to being the preferred growth partner to tech-enabled and sustainable businesses in Europe.
Read more on: www.verdane.com
About FSN Capital
Established in 1999, FSN Capital Partners is a leading Northern European private equity firm and investment advisor to the FSN Capital Funds, with €4 billion under management.
FSN Capital Funds make investments in growth-oriented Northern European companies, to support further growth and to transform companies into more sustainable, competitive, international, and profitable entities.Our ethos, "We are decent people making a decent return in a decent way" defines our core values.  FSN Capital Partners has a team of more than 80 professionals across Oslo, Stockholm, Copenhagen and Munich. The FSN Capital Funds are advised by FSN Capital Partners in addition to 10 executive advisors with extensive industry experience.  The FSN Capital Funds are committed to being responsible investors and having a positive environmental and social impact across its portfolio.
Learn more about FSN Capital Partners on our website: www.fsncapital.com
---
For more information, please contact the following persons at FSN Capital Partners (investment advisor to the FSN Capital Funds):
Kasper Sørensen, Principal
ks@fsncapital.com
Morten Welo, Partner & COO/IR
mw@fsncapital.com