FSN Capital has signed an agreement to invest in Obton Group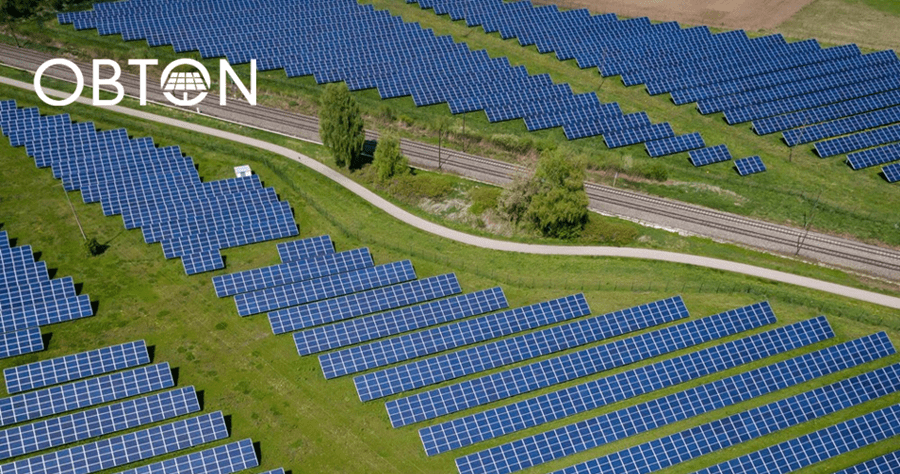 Copenhagen, December 15, 2020 
FSN Capital has signed an agreement to acquire a 45% stake in Obton Group and enter into a partnership with the founders and management. Obton Group is a specialized alternative investment provider developing, structuring, and managing solar photovoltaic "solar PV" projects on-behalf of ~4,000 high net worth investors.
Obton Group has grown sales / EBIT at 35% / 45% CAGR respectively since the company was founded in 2008, and today manages almost 1 GW of solar PV power making it the 9th largest solar PV manager in Europe. The solar PV business focuses on the entire development value chain from site selection to asset management through local operations and joint venture partners in 8 markets, and enjoys tremendous tailwind from the ongoing shift to renewable energy as the world battles global warming and climate change.
The management team and founders of Obton Group, who will remain in leading positions at the company, were looking for a partner to help accelerate growth and develop the company through its next phase. To achieve this goal, management designed a narrow one-round process with a few selected sponsors before FSN Capital was granted exclusivity. FSN Capital emerged as the preferred partner to management due to strong alignment on values, vision, and plans for the future. Throughout the partnership FSN Capital will seek to support management's ambitious growth plans which include developing more avenues for raising capital and delivering on the existing significant solar PV pipeline.
Lars Denkov, Partner at FSN Capital Partners (investment advisor to FSN Capital) sees Obton Group as an attractive investment opportunity: "At FSN, we have a strong belief that the green transition of the energy system towards renewable energy is one of the most interesting investment themes for the coming decades. As one of the largest and most experienced developers, managers and investors in solar PV in Europe, the Obton Group is very well-positioned in this rapidly growing industry. Obton is a unique and very well-run company, which in relatively few years has succeeded in becoming one of the 10 largest administrators of solar parks in Europe. We are incredibly proud that the founders and leaders at Obton have chosen FSN Capital as their partner for the growth journey ahead, and we look forward to working with Anders Marcus and his team."
The investment in Obton Group is in line with FSN's strong strategic focus on ESG and its general ambition to contribute positively to the development of society. In the much-needed transition from a black to a green energy system, one of the tasks is to replace old-fashioned fossil-fired power plants with renewable energy from solar energy. As such Obton Group directly contributes to several of the United Nations Sustainable Development Goals, specifically SDG 7 (Affordable and Clean Energy) and SDG 13 (Climate Action). Obton Group is similar to FSN Capital a signatory of the Principles for Responsible Investment.
Anders Marcus, CEO and Co-founder at Obton Group further adds: "Obton is now the 9th largest administrator of solar parks in Europe. With more than 1,000 solar projects to date, we are an experienced player in the solar power industry, which is undergoing a rapid development that looks set to continue for many years to come. This is just the beginning of the global green energy revolution, which will change the way we think about climate, energy and infrastructure. We have long had a desire to bring some stronger competencies into the company in the form of a larger investor who can contribute even more international knowledge. We now get that with FSN Capital's entry into the company. When looking for a potential partner, FSN Capital quickly stood out due to their vision and ambition for the company as well as shared values with the Obton Group. We are both proud and happy to be able to attract such a competent investor."
The transaction is subject to approval from relevant authorities and is expected to close in the first half of 2021.
To learn more about the company, please go to:
https://www.obton.com/
https://www.koncenton.com/
FSN Capital was advised by BCG, Plesner, PwC, Nomura Greentech, Colliers, Lincoln International, Frank Partners, White & Case and Marsh. Nordea is providing an ESG-linked financing facility in support of the company's growth strategy. 
---
For more information please contact the following persons at FSN Capital Partners (investment advisor to the FSN Capital Funds):
Lars Denkov, Partner
ld@fsncapital.com 
Morten Welo, Partner & COO/IR
mw@fsncapital.com