FSN Capital has signed an agreement to acquire a majority stake in Epista Life Science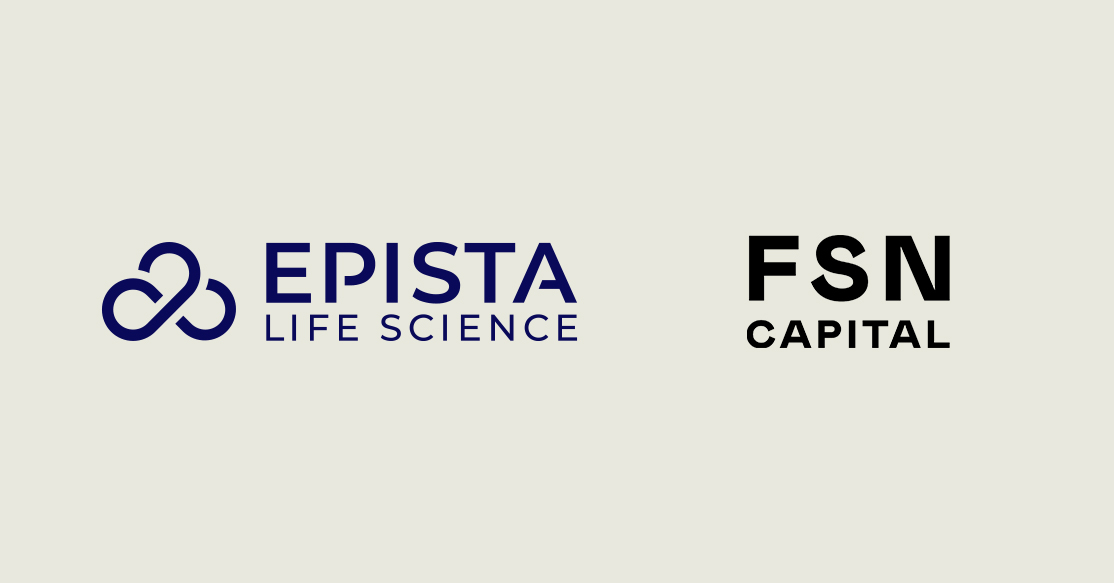 Copenhagen, May 25, 2022
FSN Capital has signed an agreement to acquire a majority stake in Epista Life Science ("Epista"), a Northern European IT consultancy firm focused on compliance and business in the Life Science industry.
Headquartered in the Danish life science hub of Hørsholm, Denmark, Epista is a fast-growing IT services and consultancy firm. They drive positive impact in the Life Science industry by facilitating the adoption of technology while ensuring continuous regulatory compliance. Their service offering includes general consulting, software implementation and managed operations.
The company has offices in Denmark, Sweden and Germany and serves leading international pharmaceutical, biotech and medical device companies. The company was founded in 2009 by CEO Klavs Esbjerg, who will retain a sizeable stake in the company. Epista has grown by more than 30% per annum since inception, had DKK 119m of revenues in 2021 and over 100 employees.
With a strong M&A pipeline, the company is expected to continue the buy-and-build journey already initiated with the acquisition of Swedish peer Bruun & Maté, to create a pan-European leader in the niche Life Science IT services and consulting market. Epista is expected to continue to benefit from a strong underlying market growth, supported by digitalization of the life science industry and growing regulatory requirements to adapt to technological advancements within IT and automation.
Epista assists customers to define and execute digital IT strategies, and ensure regulatory compliance (FDA, EMA, and more) throughout the value chain. By doing this, they help Life Science companies drive the innovations that improve health care around the world.
Epista CEO Klavs Esbjerg commented: "We strongly believe that Epista is the foremost consultancy within our area of expertise. With this talent comes an obligation to drive the highest level of positive impact in the Life Science industry. We are pleased to have FSN Capital as our partner for the journey ahead. They're a sophisticated investor with significant experience scaling IT services companies. This will help us reach our goal of making a positive impact on a global scale faster and more forcefully. We look forward to getting started."
Nicholas Hjorth, Investment Director at FSN Capital Partners, commented: "Epista is appreciated by customers, software partners, employees and regulators for their strong values-driven approach to driving a positive impact in this societally-critical industry through digitalization. Their rapid growth over the last decade is a testimony to their strong position in a growing Life Science industry, as well as ability to internationalize their business from Denmark to Sweden and Germany. We are very excited to partner with Klavs Esbjerg and his team to support their vision of creating a global force for positive impact in the life science market, involving further M&A and organic growth."
Justin Kent, Partner at FSN Capital Partners, commented: "Continued digitalization of the Life Science industry will be necessary to meet the global demands for cutting edge medicine and pharmaceutical innovation, yet innovation and time-to-market must not come at the expense of patient safety. Epista's subject matter experts help life science customers, regulators, and patients ensure that digital tools are safely implemented and validated to be compliant with regulations. We have been very impressed with the vision of the management team and look forward to working with them to build an international leader in their niche."
FSN Capital was advised by Deloitte, Plesner, Frank Partners and Marsh.
About Epista Life Science ("Epista")
Epista, founded in 2009, is an IT services and consultancy firm assisting Life Science companies worldwide. They are headquartered in Denmark and have subsidiaries in Sweden and Germany. The company works at the intersection of business and compliance to anticipate the impacts that changing technology and regulatory requirements will have on the industry. They implement technologies and pioneer methodologies to help their clients adapt while also increasing their performance. In this way, they help the industry drive the innovations that improve health care around the world.
About FSN Capital Partners
Established in 1999, FSN Capital Partners is a leading Northern European private equity firm and investment advisor to the FSN Capital Funds, with €4 billion under management. FSN Capital Funds make control investments in growth-oriented Northern European companies, to support further growth and to transform companies into more sustainable, competitive, international, and profitable entities. Our ethos, "We are decent people making a decent return in a decent way" defines our core values. We are committed to being responsible investors and having a positive environmental and social impact across our portfolio.  FSN Capital Partners has a team of 70 across Stockholm, Oslo, Copenhagen and Munich, in addition to 9 executive advisors with extensive industry experience. Learn more about FSN Capital on: www.fsncapital.com
---
For more information please contact the following persons at FSN Capital Partners (investment advisor to the FSN Capital Funds):
Justin Kent, Partner
jk@fsncapital.com
Nicholas Hjorth, Investment Director
nh@fsncapital.com
Morten Welo, Partner & COO/IR
mw@fsncapital.com