FSN Capital VI has signed an agreement to acquire a majority stake in Dutch IT-Services provider ilionx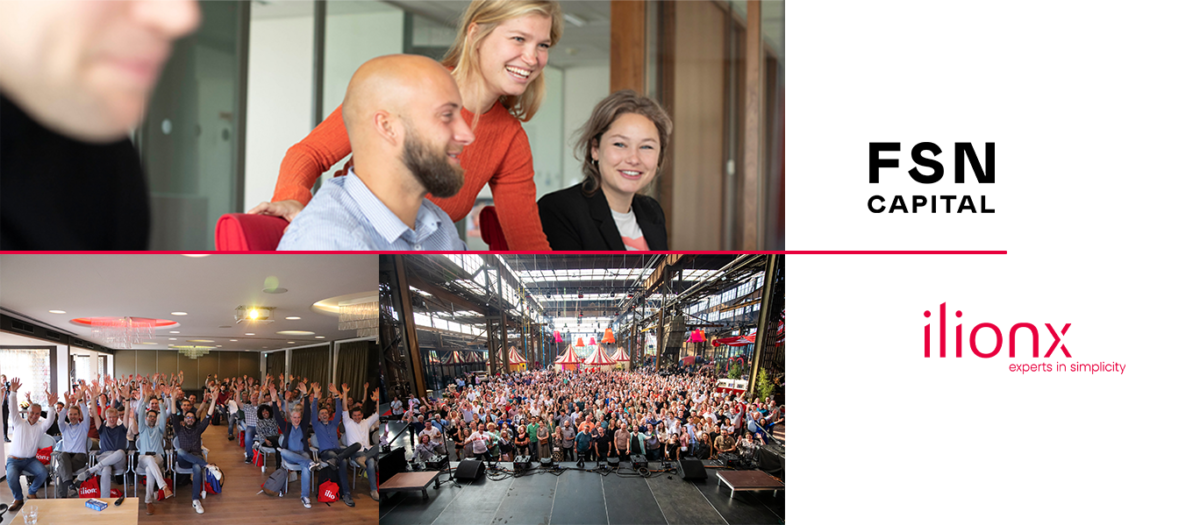 Stockholm, December 1st, 2022
FSN Capital VI* has signed an agreement to acquire a majority stake in ilionx, a leading Dutch IT-Services provider focused on customers in regulated industries and the public sector. The investment in ilionx is following FSN Capital VI's strategy to support entrepreneurial businesses in industries successfully invested into before.
Headquartered in Utrecht, ilionx has over 1,200 employees across thirteen locations in the Netherlands and offers digital strategy, cloud-oriented application development, data & AI solutions, hyperautomation services and managed services to organizations that are fundamental to the Dutch economy and for the people in the Netherlands. ilionx was founded 20 years ago and has over time demonstrated a strong ability to grow with its customers and become a trusted, long-term IT-Services provider.
Together with ilionx' management team, FSN Capital VI will accelerate the growth of ilionx where the investment strategy will focus on continued organic growth as well as selected add-on acquisitions in the large and highly fragmented Dutch IT-Services market.
FSN Capital Funds** has an extensive track record of partnering with successful IT-Services companies including Netcompany, Fellowmind, Omegapoint, Nordlo and Epista Life Science.
Marcus Egelstig, Partner at FSN Capital Partners, investment advisor to FSN Capital VI, commented: "We are very excited that FSN Capital VI will join forces with ilionx to support the company in realizing its strategy. We see ilionx as a very trustworthy IT partner for its customers with a strong backbone in highly competent employees, combined with an entrepreneurial spirit and customer-centric approach. With these strong capabilities we find ilionx exceptionally well-positioned for continued growth."
Jan Veltman, CEO at ilionx, added: "I am very confident that we can realize our ambitions with FSN. It is an organization with a keen eye for the well-being of our employees. Together we offer a good environment for professionals, and we are involved in society as a whole. Sustainability, growth and people-centricity are extremely important for both FSN and us and I am pleased that we can reinforce each other in this, also towards our customers."
The parties have agreed not to disclose details of the transaction. The transaction is subject to approval by the competition authorities and the Works Council.
*FSN Capital GP VI Limited, acting for itself and in its capacity as general partner or portfolio manager (as applicable) for and on behalf of each of FSN Capital VI L.P., FSN Capital VI Invest L.P. and FSN Capital VI Lux SCSp ("FSN Capital VI").
**FSN Capital Funds include FSN Capital GP VI Limited – as defined under "*" and comparable entities in prior FSN Capital funds (V, IV, etc.)
About ilionx
Creating simplicity in a complex world. That is the goal of IT knowledge and implementation partner ilionx. By innovating, clarifying and connecting. ilionx has been offering IT solutions that work simply and connect closely to organizational processes since 2002. All expertise is available to move organizations forward and to let people work with pleasure.
ilionx supports its clients in the field of digital strategy, cloud applications, data & AI, hyperautomation & integration and managed services. This has already led to many successful projects and implementations at healthcare institutions, (semi) governmental organizations and commercial companies with over 500 employees, a Dutch footprint and social relevance. ilionx employs over 1,200 experts, working from thirteen locations throughout the Netherlands.
For more information, please visit http://www.ilionx.com/en/
About FSN Capital
Established in 1999, FSN Capital Partners is a leading Northern European private equity firm and investment advisor to the FSN Capital Funds, with €4 billion under management.
FSN Capital Funds make control investments in growth-oriented Northern European companies, to support further growth and to transform companies into more sustainable, competitive, international, and profitable entities.
Our ethos, "We are decent people making a decent return in a decent way" defines our core values.  FSN Capital Partners has a team of more than 80 professionals across Oslo, Stockholm, Copenhagen and Munich. The FSN Capital Funds are advised by FSN Capital Partners in addition to 10 executive advisors with extensive industry experience.  The FSN Capital Funds are committed to being responsible investors and having a positive environmental and social impact across its portfolio.
Learn more about FSN Capital and our team on our website: www.fsncapital.com
---
For more information, please contact the following persons at FSN Capital Partners (investment advisor to the FSN Capital Funds):
Marcus Egelstig, Partner
me@fsncapital.com
Morten Welo, Partner & COO/IR
mw@fsncapital.com