FSN Capital IV: Kjell & Company has been listed on Nasdaq Stockholm, First North Growth Market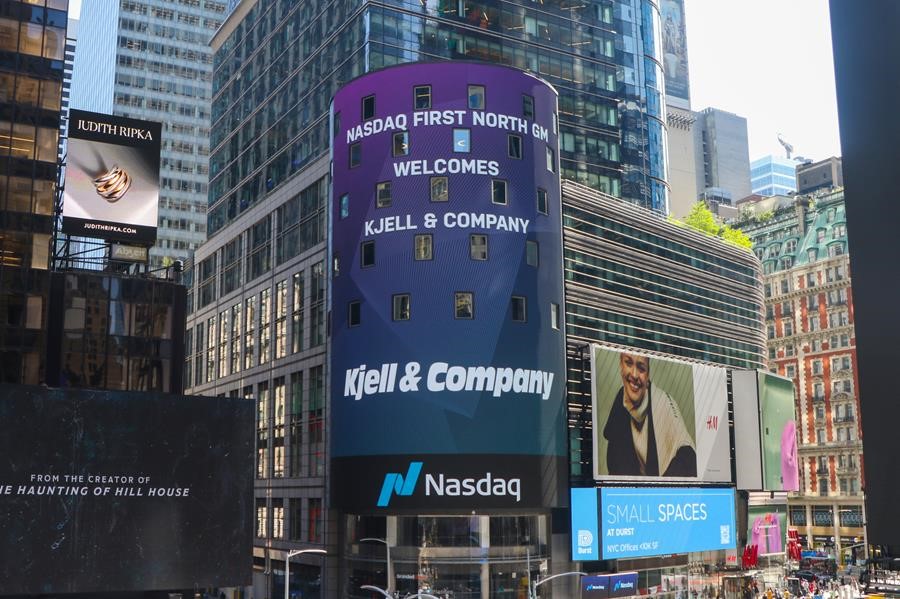 September 16th, 2021

Kjell Group AB (publ) ("Kjell & Company" or the "Company") was listed on September 16, 2021, on Nasdaq First North Growth Market. The Initial Public Offering (the "IPO") attracted very strong interest both from Swedish and international institutional investors, as well as from the general public in Sweden. The offering was oversubscribed several times.
The listing price in the offering was SEK 55 per share, corresponding to a total market value of the Company's shares of approximately SEK 1,713 million upon completion of the Offering. Given full exercise of the over-allotment option, 19,150,839 shares were sold in the Offering, corresponding to approximately 61.5 percent of the total number of shares in the Company upon completion of the offering. FSN Capital IV will hold approximately 23% of the shares after the IPO, assuming the over-allotment option is exercised in full.
Andreas Rylander, CEO, says:" We have noticed a strong interest to invest in Kjell & Company and look forward to, together with our new shareholders, take the next step in the development as a listed company. It is a great day for us who work daily to make technology accessible for all. In that spirit, I would like to thank all of our employees for your hard work and for the trust of our customers and we look forward to our growth journey together!"
Ingrid Jonasson Blank, Chairperson of the board, says:" For several decades, Kjell & Company has built a stable and growing business with a clear and strong culture, a customer focus and a passion for technology that is unique and with a business model where online sales are fully integrated with the business' 130 service points. We look forward to, with an accomplished management team, taking the next step in Kjell & Company's journey and further increase the pace of our development".
Simon Larsson, Investment Director, FSN Capital Partners (investment advisor to the FSN Capital Shareholders): "Kjell & Company has built a unique position in the market through its relentless focus on leading customer satisfaction and high service in all sales channels. During recent years, the Company has implemented several strategic initiatives, built a best-in-class omnichannel offering and successfully expanded into Norway and Denmark. We look forward to continue supporting the Company on its growth journey as a public company".
About Kjell & Company
Since the Company's inception in 1988, Kjell & Company has become a leading player in consumer electronics accessories, with presence in Sweden, Norway and Denmark. The Company combines a large product range with a high degree of advice and customer service, which is offered via an omni-channel offering – online, through 130 service points (of which 107 are in Sweden and 23 in Norway) and in partnership with Circle K at 292 stations across Sweden. Through the acquisition of the online player AV-Cables, completed on 29 April 2021, Kjell & Company is also established in the Danish market and further strengthens its position in the Nordics.
Through Kjell & Company's loyalty club, with approximately 2.4 million members, the Company has an in-depth understanding of people's technology needs, and the Company's approximately 1,200 employees work daily to enhance everyday lives through technology. Kjell & Company's clear focus on the customer experience is evident from the Company's high customer satisfaction and average rating of 9.2 of 10.0 on Prisjakt and NPS of 75.
Kjell & Company has historically achieved a strong organic net sales growth, with a compound annual growth rate ("CAGR") of 18.8% for the financial years 2000–2020. During the period, Kjell & Company has increased its net sales every year. A clear focus on customer satisfaction combined with a curated assortment has, together with the omni-channel platform, contributed to high margins. The adjusted EBITA margin was 7.3% for the financial year 2020 despite negative effects from the Covid-19 pandemic
---
For more information please contact the following persons at FSN Capital Partners (investment advisor to the FSN Capital Funds):
Simon Larsson, Investment Director
sl@fsncapital.com
Morten Welo, Partner & COO/IR
mw@fsncapital.com